Change and the potential of social media
pornography
Social media has overtaken pornography as the no. 1 activity on the web. That's what I learned when reading up a bit on this concept that is revolutionising the way we interact. Now that just shows you how important these internet-based applications have become… Social network sites such as Facebook, Google+ and Linkedin, microblogging services such as Twitter, but also blogs and video-sharing websites as Youtube, they are all part of the Web 2.0, interactive internet where YOU can generate and share content. And you are individuals, NGOs, businesses, the authorities, etcetera, everyone uses social media. We ventilate our opinions on blogs and receive comments, we share information through Wikipedia and other Wiki´s, we manage business contacts through Linkedin, and show our friends what we did over the weekend on Facebook. Businesses have totally jumped on the concept and are using them for numerous purposes including marketing, monitoring, broadcasting, customer service, etcetera etcetera.
change
Hence one could argue social media applications should be a perfect platform for driving change. Let´s focus on the need for change with respect to global warming. Climate change is an established scientific fact. It is more than 90% certain that it is caused by us, human beings, by burning fossil fuels and cutting down forests. This is demonstrated by over 10,000 peer-reviewed scientific papers and the outputs of the IPCC, a scientific intergovernmental body. The result of climate change is an increase in global temperature. This in turn causes glaciers to melt, changes in animal and plant habitats and a steady increase in extreme weather events, such as hurricane Sandy in October 2012. That will increasingly affect people lives around the world, geography, the economy, supply chains, and global political stability.
change agents
That sounds bad enough if you read it does it not? However to solve the problem, the global community will need to change its consumption patterns and energy infrastructure. This means changing attitudes, behaviour and habits and it will relate to everyone, public authorities, the private sector and you. Changing attitudes of people is very hard. Changing habits of people is even harder. So why not use social media as a tool for change? To start with, we need change agents. These agents will need to influence governments, businesses and other organisations. These in turn need to influence the public. Its like a pyramid scheme without the lies and deceit part. A communication pyramid for change through virtual communities. Of course there are already change agents, and they are using social media, but it needs expansion to reach all layers and corners of society.
denialism
The change agents will also need to counter the empty rhetoric of denialists. Denialists are people that challenge the science for political or ideological reasons. Denialist tactics are not based on facts (as all the scientific evidence proves otherwise) but on diverting attention from the facts by manipulating and discrediting people or by merely pointing at and blowing up individual flaws in scientific reports which influence public opinion but do not disprove the general consensus. Denialists do this out of fear of change, which can relate to fear of loss, fear of wrecking the economy, fear of government intervention, or fear of loss of freedom. Denialists have generally been using popular media very effectively as opposed to scientists who mostly published articles in scientific journals.
social media activity
Social media has already been important in for instance the Arab spring. Authoritarian rulers have been forced from power in Tunisia, Egypt, Libya and Yemen while civil uprisings and major protests have broken out in at least 8 other countries. The effective use of social media to organise, communicate and raise awareness has played a role that should not be underestimated. Smartphones are the weapons of this day and age.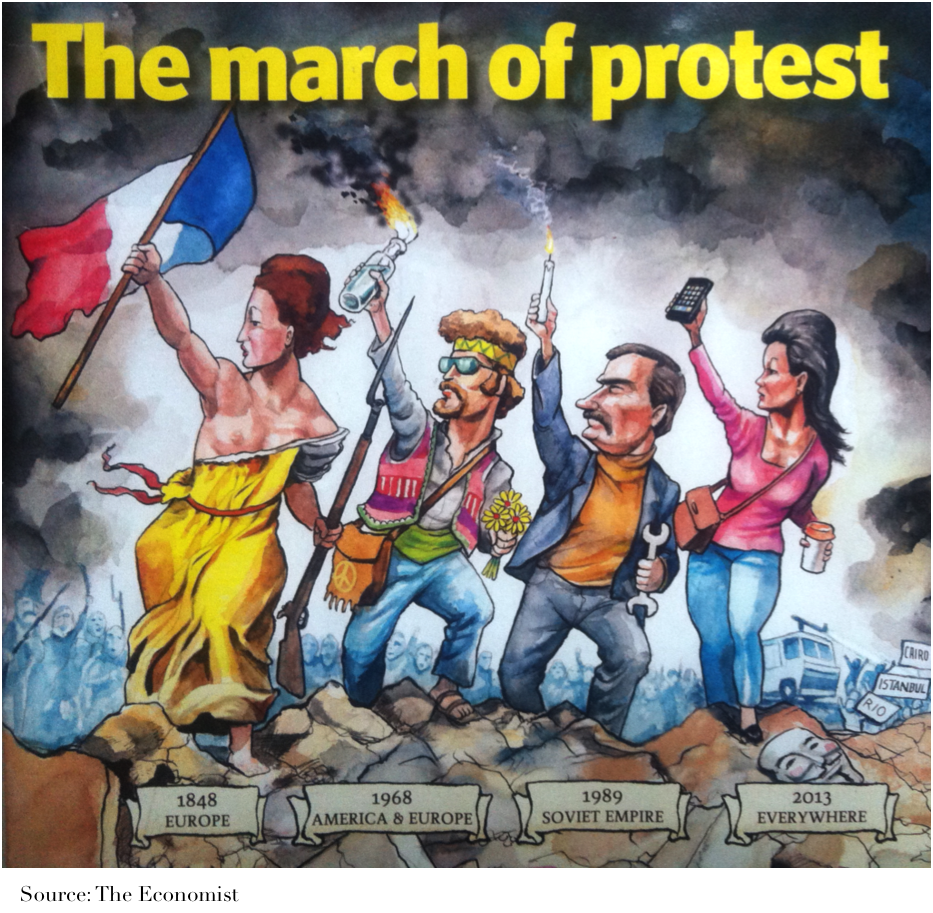 Online activist networks including Avaaz and change.org post public petitions on the net on a wide range of environmental and social topics, including climate change. Through petitions submitted by their members they aim to influence decisions made by governments or businesses. Avaaz operates in 15 languages, and states that it has more than nineteen million members in 194 countries. In 2012, change.org had 10 million members and received 500 new petitions per day.
Successful petitions against proposed government policies included over 2 million signatures collected by Avaaz persuading Brazil´s president to veto controversial parts of proposed legislation last year that would have given loggers and farmers free rein to cut huge areas of the Amazon. The end result may not have amounted to what was originally bargained for, but the impressive number of people protesting gave a strong signal to the authorities. In Australia a few months earlier hundreds of thousands signed a letter to the Environment Minister which successfully pressured him not to yield to an industry lobby to open a marine protected area up for mining and oil and gas development. In 2012 over 170,000 people signed petition through change.org that saw the governor of Illinois veto a bill that would have prohibited towns in the state from enacting bans on single-use plastic bags. Finally an almost 3 million signatories petition to block an internet censorship enabling law was successful and the European Parliament announced that the Avaaz petition was a key factor in the decision. The internet clearly makes it easier for larger numbers of people to protest.
Social media campaigns are very effective for influencing businesses as well. In February this year a petition was started on change.org to stop energy giant EDF from suing 21 "no dash for gas" climate change activists for £5 million for having occupied one of their sites for a week (by hanging inside one of the chimney´s). Signatures were coming in at a rate of 1,000 per hour to reach 50,000 in the first week. A campaign on Twitter saw EDF customers changing suppliers and others attacking the brand while some critics called it PR suicide. As a result EDF dropped the lawsuit in March.
EDF was not the first company to bow under this kind of public pressure. One of the striking precedents was Greenpeace using a successful social media campaign in 2010 to pressure Nestlé into stopping buying palm oil from Indonesian companies that conducted illegal deforestation. Greenpeace created a Youtube video which likened a Kit Kat bar to killing an Orang-utan. The video received over 600,000 views to date. Ironically, subsequently the Facebook page of Nestlé was bombarded with negative commentary until Nestlé announced they would replace their supplier.
Furthermore on Facebook you can find interest groups or "like pages" like Shift, which calls itself an inspirational hub for world-wide change makers, and numerous others. On Twitter specific protest theme accounts such as @nodashforgas (linked to the EDF lawsuit) are created. Change agents also share info on blogs and professional social media websites like Linkedin.
how to get there?
All these campaigns and petitions are great for specific individual causes, but to structurally change people´s behaviour we need much more. In addition as people follow like minded people most of the preaching on the internet will be to the converted. And maybe more dangerous than denialists are the people or organisations that publically acknowledge the problem but secretly sabotage change. So its about breaking on through to the other side, the people who do not believe, or the people who do not want change or think they can not do it (too hard to change).
Perhaps we can break through following the communication pyramid explained above and pictured to the right. Change agents can come from any part of society. The number of change agents needs to expand through governments, businesses, the academic world and organised civil society. These in turn will then influence the general public through their social media accounts.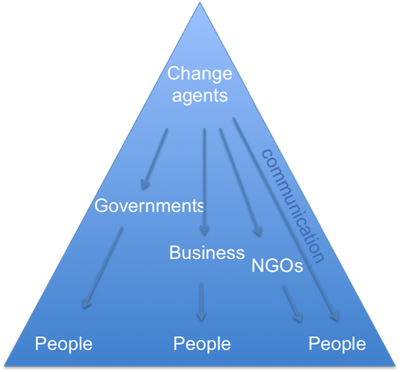 The messages to be conveyed through social media need to be simple, captivating and repetitive. It needs to be targeted at the specific audience, be it government, business, or general public. An important drawback of social media is that it lacks depth and it easily facilitates manipulation (yes also pro-change people tend to manipulate…). That's why the message has to be backed up by evidence (scientific data) that is accessible, verifiable and transparent. The message needs to go beyond stimulating simple measures like recycling to actions that make a real difference, actions for which people or organisations more profoundly need to change their habits.
Social media is merely one of the numerous tools that can help facilitate change. But it's a powerful one. Facebook claims to have over 1 billion users. Twitter half of that, and Linkedin 200 million. Through smartphones people can now be influenced 24-7. I leave it to you to decide if that is a good thing or not…
The next change agent can be YOU. Luckily you won´t need to drive change through pornographic websites…
To be continued…
***
This blog was posted on Swapsee in July 2013, and will be published in the next issue of 2050magazine.